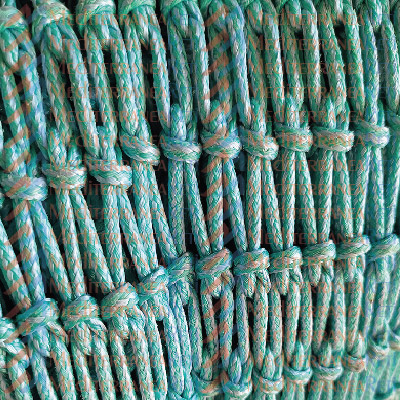 Cod-end green net
Cod-end green net is produced to be specially used for trawling nets cod-ends.
In fact, the net is regulated for trawling:
Thread diameter: ⌀3mm.
Mesh size: 52mm. internal knit
Bale of 500×200
In particular, this type of fishing net is made with high tenacity extruded fibers, through a system that guarantees superior resistance to this net.
COD-END GREEN NET –
ADVANTAGES OF USE:
High tenacity

Excellent breaking load

High elasticity

Heat stabilized for dimensional uniformity

Mesh stability
Cod-end green nets for for trawlers  find approval for superior yarn compactness,
in fact they are nets that improve durability over time
Furthermore, green cod-ends  nets do not spoil the catch, have stable knots, and meshes that do not widen,
ensuring excellent performance in terms of profitability of the catch.