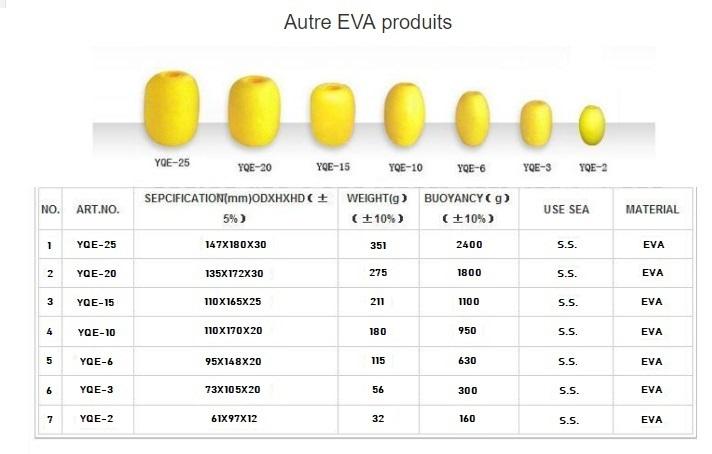 EVA Floats
The EVA Floats (Ethylene Vinyl Acetate)  have a well defined weight and buoyancy. They have a very high resistance and do not absorb water.
Their exceptional elasticity favors the maintenance of the original measurements over time, demonstrating a high resistance to shrinkage, to permanent deformation, and breakage.
This new closed-cells material is extremely buoyant and also resistant to UV rays, oil, diesel and chemicals products in general.
They are equipped with a rubber grommet at the entrance of the through hole, for further protection of the float against wear.
EVA floats are widely used for various solutions, such as:
Pool lanes,

Safe water boundaries,

Delimitation of acquatic spaces.
EVA Floats material specifications:
EVA is a material resistant to bacteria and fungi, it is a non-toxic material and therefore extremely safe, non-polluting and designed to safeguard the health of our waters and fish fauna. For all these properties, as well as in fishing, it is used in the production of games for children, in the packaging of quality products, in the production of carpets or accessories for gyms and swimming pools.
EVA can be substantially divided into "soft" or "hard", according to the user's needs and the specifications of use, but in both cases the material is always resistant and flexible which makes the product stable in maintaining the its measurements over time.
Another unique feature of Ethylene Vinyl Acetate (EVA) is that it simultaneously has excellent physical and mechanical properties and an excellent aesthetic appearance in terms of shape and color.
Materials
EVA: Ethylene Vinyl Acetate