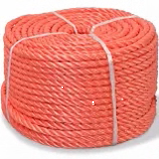 Polypropylene Ropes
Polypropylene Ropes are widely used in the most varied professional applications in the marine sector. In fact, thanks to their high resistance to abrasion and easy handling, they allow the operator to make splicings and loops with greater practicality.
The properties of our Polypropylene ropes are:
High resistance to abrasion, which contributes to an increase in the durability of the product, more than 10% compared to other types of ropes.
High resistance to UV rays allows it to maintain its performance over time.
A Superior Strength and Resistance that allows the rope to have a very high Breaking Strength (B.S.) with great maneuverability due to the buoyancy of the rope.
A higher quality/price ratio than common ropes.
Materials
High Tenacity Polypropylene
Customization
Rope measurements can be established upon request.
In addition, the ropes can be modified to predispose tailored splicing, shaping, and loops.
| Ø | Ø | Peso | Carico di Rottura | Carico di Rottura |
| --- | --- | --- | --- | --- |
| [mm] | [Inch] | [Kgs/100m] | [Kg] | [kN] |
| 6 | 1/4 | 1,75 | 680 | 6,70 |
| 8 | 5/16 | 3,0 | 1.200 | 11,8 |
| 9 | 3/8 | 3,8 | 1.500 | 14,7 |
| 10 | 13/32 | 4,5 | 1.800 | 17,7 |
| 12 | 15/32 | 6,6 | 2.700 | 26,5 |
| 14 | 9/16 | 9,1 | 3.600 | 35,3 |
| 16 | 5/8 | 11,6 | 4.500 | 44,1 |
| 18 | 23/32 | 14,9 | 5.800,00 | 56,9 |
| 20 | 13/16 | 17,9 | 6.900,00 | 67,7 |
| 22 | 7/8 | 22,0 | 8.400,00 | 82,4 |
| 24 | 15/16 | 26,0 | 9.900,00 | 97,1 |
| 26 | 1-1/32 | 30,6 | 11.500,00 | 112,8 |
| 28 | 1-1/8 | 35,5 | 13.200,00 | 129,5 |
| 30 | 1-3/16 | 41,1 | 15.000,00 | 147,2 |
| 32 | 1-1/4 | 46,0 | 16.800,00 | 164,8 |
| 36 | 1-7/16 | 58,0 | 20.600,00 | 202,1 |
| 40 | 1-19/32 | 71,5 | 25.700,00 | 252,1 |
| 44 | 1-3/4 | 88,5 | 31.800,00 | 312,0 |
| 48 | 1-7/8 | 104,0 | 36.600,00 | 359,0 |
| 52 | 2-1/16 | 122,0 | 42.100,00 | 413,0 |
| 56 | 2-1/4 | 142,0 | 48.700,00 | 477,7 |
| 60 | 2-3/8 | 163,0 | 55.300,00 | 542,5 |
| 64 | 2-1/2 | 185,0 | 62.500,00 | 613,1 |
| 70 | 2-3/4 | 221,0 | 74.300,00 | 728,9 |
| 72 | 2-7/8 | 234,0 | 77.900,00 | 764,2 |
| 80 | 3-2/32 | 290,0 | 96.000,00 | 941,8 |
| 88 | 3-7/16 | 351,0 | 116.200,00 | 1.139,9 |
| 96 | 3-13/16 | 417,0 | 137.200,00 | 1.345,9 |
| 100 | 3-15/16 | 452,3 | 148.900,00 | 1.460,7 |