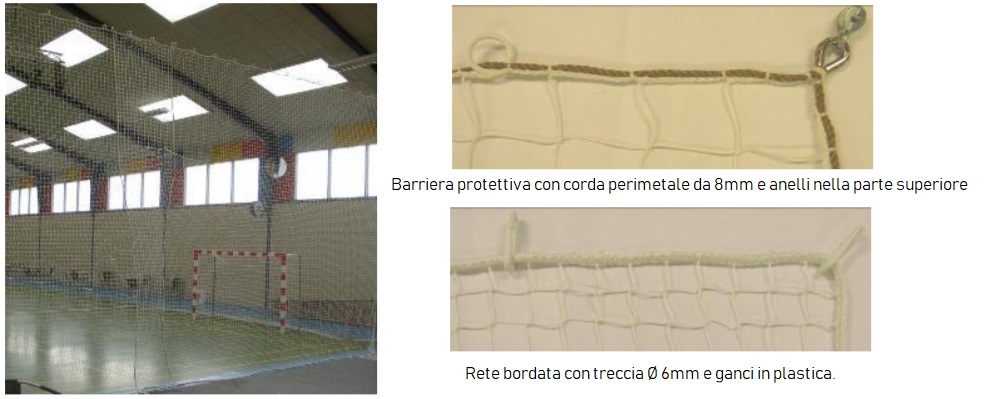 Protection nets
We produce different types of barriers and protection nets.
The protection nets can find different applications, such as in adventure and amusement parks as safety nets for suspended passages or safety nets for Tibetan bridges, or be used to delimit sports fields and sports arenas protecting the fans.
In addition, our safety nets are used on construction sites to protect workers, and also to avoid the accidental fall of work tools which could be dangerous. The use of protection nets, as safety against falling objects, can also find different applications in all contexts where it is necessary to prevent the accidental fall of blunt objects.
We particularly made protective nettings barriers for all types of ball games.
Many types of nets are used in the safety sector, and different nets can absolve the safeness requested by the customers, and be assembled in various ways for the specific conditions of end customers, and the specific use.
We manufacture, for instance, protective nettings screens for:
football,

tennis,

padel,
volleyball,

squash,

golf,

ice hockey,

water polo,
handball,

hockey,

beach volley,
beach tennis,

cricket,

badminton,

table tennis,

hammer throwing,

and many other purposes.
Over the years we have been a supplier to the handball market, especially for the Danish market, gaining a great deal of experience also in running this kind of specific sport-nets. The nets for handball fields are one of the types of nets that we have always produced. Handball nets are usually made of nylon mesh with a mesh of 50 or 120 mm.
The edge of the protection nets can be mounted in different ways. These nets can also be combined with 2 meshes, for example, with a 50mm. jersey at the bottom (for tennis/hockey) and a 120mm. jersey at the top.
Contact us now and receive a  free quotation for your particular solution!