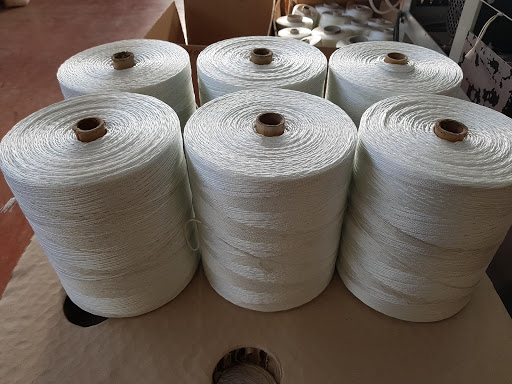 Twisted Yarn
Our Twine Twisted Yarn is exclusively manufactured in our Italian premise, so entirely made in Italy.
Nylon twines are used for mending operations, building-up fishing nets, and for all the activities where it is required the use of yarns with elevated resistance, low weight, and maximum flexibility.
They are produced utilizing High Tenacity Polyamide Fiber, Nylon 6, and Nylon 6.6, characterized by high tensile strength.
Upon request, MediterraneaReti can also produce Polyester Twines.
Available Materials
High Tenacity Polyamide Fiber, High Tenacity Nylon 6 & 6.6, Polyester
Nylon
Polyester
Customization
We can modify the direction and number of twists to satisfy any request of our customers.
Technical specifications Twisted Polyamide 6 High Tenacity (Nylon)
All the values ​​of each individual production can be verified with our DIMI07 testing machine.
Specifiche Tecniche Ritorti in Poliestere (PES)
| Titolo | Sviluppo Metrico mt/kg | Sviluppo Metrico mt/kg | Carico Rottura Minimo | Carico Rottura Minimo | Allungamento a Rottura% | Allungamento a Rottura% |
| --- | --- | --- | --- | --- | --- | --- |
| | Min. | Max. | N. | Kg | Min. | Max. |
| 210.2 | 19000 | 20500 | 25 | 3 | 18 | 28 |
| 210.3 | 13000 | 14000 | 40 | 4 | 18 | 28 |
| 210.4 | 9500 | 10500 | 50 | 5 | 19 | 29 |
| 210.6 | 6500 | 7000 | 80 | 8 | 20 | 30 |
| 210.9 | 4200 | 4800 | 120 | 12 | 20 | 30 |
| 210.12 | 3000 | 3500 | 170 | 17 | 20 | 30 |
| 210.15 | 2500 | 2800 | 210 | 21 | 22 | 32 |
| 210.18 | 2100 | 2300 | 270 | 28 | 22 | 32 |
| 210.21 | 1700 | 1900 | 300 | 31 | 24 | 34 |
| 210.24 | 1500 | 1700 | 340 | 35 | 26 | 36 |
| 210.30 | 1100 | 1300 | 440 | 45 | 26 | 36 |
| 210.36 | 950 | 1150 | 540 | 55 | 28 | 38 |
| 210.48 | 750 | 820 | 720 | 73 | 28 | 38 |
| 210.54 | 660 | 720 | 800 | 82 | 28 | 38 |
| 210.60 | 600 | 650 | 880 | 90 | 28 | 38 |
| 210.72 | 500 | 550 | 1000 | 102 | 28 | 38 |
| 210.90 | 380 | 420 | 1300 | 133 | 30 | 40 |
| 210.96 | 350 | 390 | 1380 | 141 | 30 | 40 |
| 210.120 | 280 | 320 | 1700 | 173 | 30 | 40 |